At Huaxiba, adjacent to the Wanliqiao Bridge along the Jingjiang River, Chengdu, a famous historic and cultural city of China, there is a century-old cradle for cultivating excellent nursing students--West China School of Nursing, Sichuan University.
The School, founded in 1915 by a Canadian nurse named Ms. Caroline Wellwood, is committed to establishing the optimal nursing education and scientific research platform in China. With the history of more than 100 years, the nursing discipline, which serves for great national demands and protect human health, have gradually formed.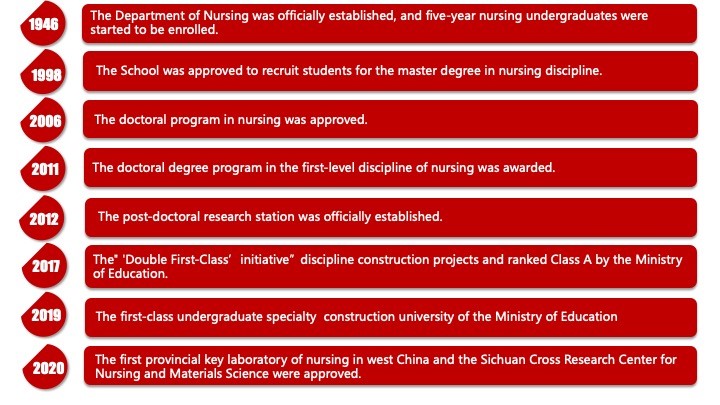 Focusing on discipline construction, the School is always devoted to cultural construction, nursing education, nursing research, international cooperation, supporting platforms and social reputation. Up to now, it has formed a framework for cultivating high-caliber talents with the strong support of 4 hospitals and 15 teaching and research sections; created a discipline construction framework comprising head nurses of department, head nurses of specialties and associate head nurses of specialties; and fostered a new force for the construction of nursing discipline through integration, innovation and inheritance. In the new era, the School is geared to push forward the construction of the nursing discipline with great passion and broad mind.
After years of persistent development, the School has formed a complete training system covering undergraduate-master-doctoral-postdoctoral programs with nearly 70 supervisors. It has opened more than 60 courses for undergraduates and postgraduates, which has been granted the national-level programs for featured specialties and quality courses many times. Meanwhile, the School also owns a world-leading simulation center for practice & experimental teaching, creating leading-edge, adequate and optimal teaching conditions for training top-notch talents. Since 1993, the School has trained over 2,000 high-caliber nursing talents.
Highlighting the construction of first-level disciplines, West China School of Nursing has formed five secondary discipline systems in five research directions, with support ofthe provincial key laboratory of nursing and the Sichuan Cross Research Center for Nursing and Materials Science.
Through unremitting efforts, it strives to enhance the postdoctoral research stations meticulously, keeps on developing nursing technologies and service mode, transforms technological results into clinical applications, which have been promoted and applied in 76 institutions in 16 provinces, and promote the integrated construction of Industry-University-Research-Application-Capital system in Chinese nursing. In recent years, more than 700 longitudinal projects and 300 crosswise projects have been approved. The school has published 407 SCI research articles, 387 books, over 30 national planned textbooks, and has held more than 30 national invention patents in recent years.
The School positively expands international exchanges and high-end cooperation. In recent years, it has established exchange and cooperation relationships with more than 40 universities and colleges from more than 10 countries and areas, including the United Kingdom, Germany, the United States, Canada, Australia, Japan, Ireland, Denmark, Thailand and Singapore, etc. The cooperation activities, including international bilingual courses and international academic conferences, involved many high-caliber domestic and foreign experts to enhance teaching resources on frontier knowledge, advanced technologies and broad visions for students.
The school gives full play to the advantages of the discipline, and highlights the social responsibility. There are 103 disaster nursing experts and nursing teachers from West China hospital, Sichuan University devoting to the world's first highest-level non-military International Emergency Medical Team approved by WHO, and have completed over 17 times international and national rescue missions. In the prevention and control of the COVID-19 this year, 201 nursing staff rushed bravely to the first-line to undertake the task of frontline rescue. Among them, 4 nursing professors went to Italy, Ethiopia, Djibouti and Azerbaijan respectively to support the epidemic situation, and won the "Knight-level Independence Day National Medal", "National Advanced Individual in the Prevention and Control of COVID-19 in the National Health System" and "Chinese Youth May 4th Collective Medal". Under the leading of disciplines, the School was the first to publish a series of guides and monographs on COVID-19 related education, research and management. Meanwhile, based on the national practice & experimental simulation platform, the first virtual simulation experiment teaching project for the prevention and control of COVID-19 was developed.
Faced with the challenges and opportunities in the new era, the School is forging ahead towards its mission of building a world-class, research-oriented nursing school with "Chinese characteristic, Sichuan University style, and West China brand". With the concerted efforts of all the nursing staff, the School strives to cultivate outstanding nursing leaders with Chinese confidence, firm ideals and beliefs, noble professional ethics, solid professional capabilities, broad international vision, and strong sense of innovation. With a group of elegant, intelligent, generous and dignified nursing leaders, West China School of Nursing is turning itself into a world-leading nursing school.